AAUW St. Augustine – Advancing Women and Girls in STEM 
In an era when women are increasingly prominent in medicine, law, and business, why are there so few women scientists and engineers? A 2010 research report by AAUW presents compelling evidence that can help to explain this puzzle. Why So Few? Women in Science, Technology, Engineering and Mathematics (STEM) presents in-depth yet accessible profiles of eight key research findings that point to environmental and social barriers — including stereotypes, gender bias, and the climate of science and engineering departments in colleges and universities — that continue to block women's progress in STEM. https://ww3.aauw.org/research/why-so-few/
AAUW St. Augustine encourages girls and women to excel and pursue STEM  careers.
Sponsoring STEM SPARK, an annual career day for middle school girls

Participation in fundraising and student selection for Florida's Tech Trek Camp
Awarding to a deserving girl a scholarship to St. Johns County School's Marine Science Camp
Annual college and post-graduate scholarships
The Branch's efforts to promote STEM projects are funded by Branch events and members donations. Please consider sending a donation to the Branch STEM fund.
Volunteers are welcome. Any member wishing to participate in STEM events, please contact the STEM Director, Maureen Ballard, motooleballard@gmail.com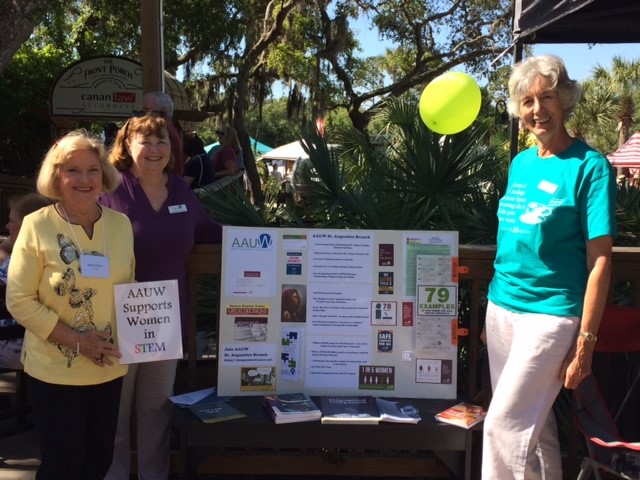 Noel Olson, Maureen Ballard and Anne Laure Wagner