Click on the above link to access information on AAUW's position on 2022 legislative issues.
---
Taking a Stand on the Issues
Gender Pay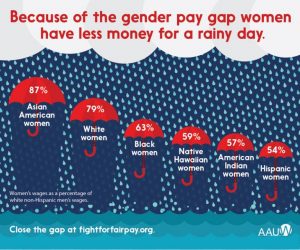 We support "fairness in compensation, equitable access and advancement in employment, and vigorous enforcement of employment antidiscrimination…we are fighting to end the Pay Gap … ." Get quick facts about gender pay.
Title IX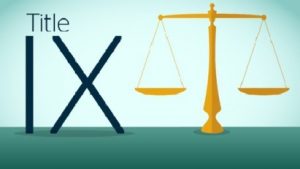 We support a strong system of public education that promotes gender fairness, equity, and diversity, and the vigorous enforcement of Title IX and all other civil rights laws pertaining to education.
Title IX of the Education Amendments of 1972 was the first comprehensive federal law to prohibit sex discrimination in education. It covers women and men, girls and boys, and staff and students in any educational institution or program that receives federal funds. This includes local school districts, colleges and universities, for-profit schools, career and technical education agencies, libraries, and museums. Music classes or choirs, sex education classes, and sports involving bodily contact are exempt from Title IX, as are religious institutions if the law would violate their religious tenets. Admissions policies at private undergraduate institutions are also exempt. Read more about AAUW's stand.
Sexual Harassment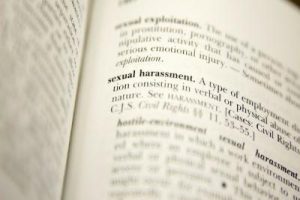 Sexual harassment is a form of sex discrimination that violates Title VII of the Civil Rights Act of 1964. Title VII is a federal law that prohibits discrimination in employment on the basis of sex, race, color, national origin, and religion, and it applies to employers with 15 or more employees, including federal, state, and local governments. Even with Title VII's protections, many people across the country still face sexual harassment in their workplaces. Read more about AAUW's stand.
Access to Health Care and Family Planning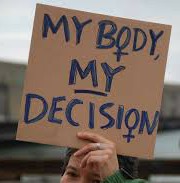 AAUW supports the right of every woman to safe, affordable, and comprehensive family planning and reproductive health services. AAUW's Public Policy Priorities advocate "to guarantee equality, individual rights and social justice for a diverse society, AAUW supports: choice in the determination of one's reproductive rights life and increased access to quality affordable health care and family planning services, including expansion of patient rights." Learn more about AAUW's stand.
---
AAUW Action Alerts ~ 2 Minute Activist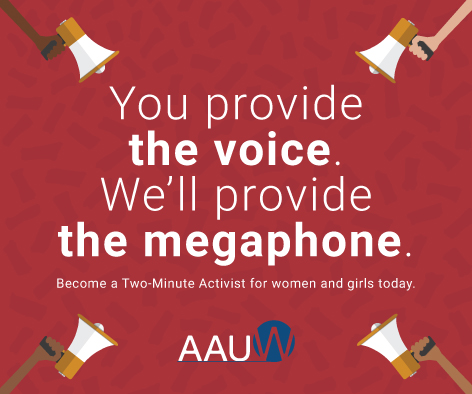 TEXT AAUW to 21333 OR follow link below to join the 2 Minute Activist
We provide all the tools you need to call or send messages to your members of Congress. Contact your state legislators about pressing issues and more.
Take action on issues impacting women and girls by joining AAUW's Action Network. As a Two-Minute Activist, you will receive urgent email notices when your advocacy is needed most. We'll provide all the tools you need to call or send messages to your members of Congress, write letters to the editor for your local newspapers, contact your state legislators about pressing issues, and more.