The St. Augustine Branch of the AAUW –
Was instrumental in the building of the first library in St. Johns County.
Spearheaded the formation of Learn to Read in St. Johns County.
Established scholarships for students who have completed their first year of college.
Initiated a Read-A-Loud Program in local schools.
---

Next Up — April 12
 Student Enactus Team, Flagler College
Ms. Donna DeLorenzo, advisor to Flagler College's Enactus, and student members of the organization who develop entrepreneurial projects in St. Augustine, will present information about their most recent ventures. One of 533 Enactus teams across the United States, Flagler's team has won three national titles and has placed near the top several other years.
11:30 ~~ Amici Italian Restaurant        
$25 per person, inclusive of tax and tip
Includes entrée, salad, bread, tea or coffee and dessert
Entrées
1. Chicken Saltimbocca w/prosciutto & cheese, potatoes & vegetable
2. Salmon Senape w/mustard cream sauce, potatoes & vegetable
3. Cheese Tortellini w/pesto cream sauce (vegetarian)
---
Proceeds support AAUW scholarships, Tech Trek, and other AAUW initiatives.
Deadline for reservations is Monday, April 9, 2018.
For reservations and information, please call Peggy at 505-980-7865.
Download the Registration Form
---

Lunch Bunch – Thursday, March 22
We will be gathering on Thursday, March 22 at 1PM at The Ice Plant which is the restaurant at the St. Augustine Distillery.  The address is 110 Riberia Street, St. Augustine, FL. Take W. King Street from US 1 driving east. Make a right turn onto Riberia Street.  The Ice Plant Restaurant is three blocks in and across from Cedar Street.  The Ice Plant will be on your right.  The website address to look at the lunch menu is:  www.iceplantbar.com  These lunches are open to members and their friends.  No agenda or meeting–just good food and conversation.  Please let me know if you will be joining us so I can make a reservation for all of us who will be going.  Debbie
---

Know Your Rights: Workplace Sexual Harassment
---

Sexual harassment is a form of sex discrimination that violates Title VII of the Civil Rights Act of 1964. Title VII is a federal law that prohibits discrimination in employment on the basis of sex, race, color, national origin, and religion, and it applies to employers with 15 or more employees, including federal, state, and local governments. Even with Title VII's protections, many people across the country still face sexual harassment in their workplaces.
Read more
---

It's Easier Than Ever to Make Your Voice Heard !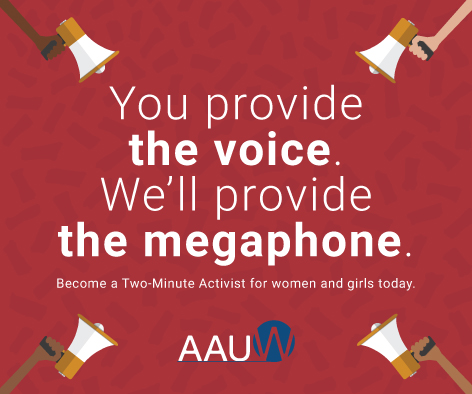 Are you ready to take your advocacy to the next level? Opt in to AAUW's Two-Minute Activist Mobile. This exciting new tool will allow AAUW to send more timely and targeted communication straight to your cell phone via text message. That means we can provide you with more strategic opportunities to take action when your advocacy can make the difference. Sign up online or text the word "AAUW" to phone number 21333 now to join.