Advancing Gender Equity through Research, Education and Advocacy
The St. Augustine Branch of the AAUW 
Instrumental in the building of the first library in St. Johns County.
Spearheaded the formation of Learn to Read in St. Johns County.
Established scholarships for students who have completed their first year of college.
Initiated a Read-A-Loud Program in local schools.
Started STEM Spark, a STEM career event for middle school girls to meet women STEM professionals.
Instrumental in supporting three research studies on Women's Economic Security.
As a non-partisan organization, encouraged every citizen to vote.
---
Join AAUW Flagler County to Celebrate Women's Equality Day!   Sat, August 28 from 12 – 1:30, First United Methodist Church of Bunnell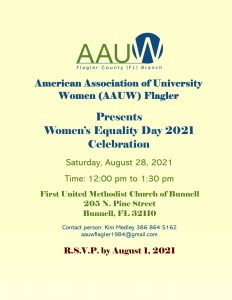 State and Local Dignitaries, Girl and Boy Scout Troops, JROTC, Refreshments
Lunch Bunch –
July 14, 1:00   Beaches at Vilano Restaurant
AAUW women getting together for conversation and good food. Contact Debbie Brinsfield at cdbrins@yahoo.com to make a reservation to join the group. The restaurant is located at 254 Vilano Road, St Augustine.
Lunch Bunch at St Augustine Fish Camp – Great Conversation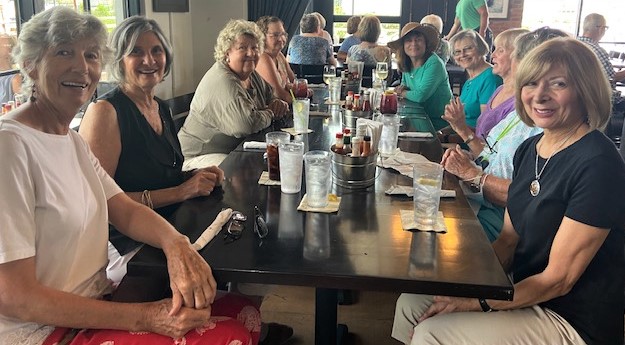 Branc
h Meetings   
September 9, 11:30   Meet and Greet with Light Lunch
Vista Cove Community Room ~ 1000 Vista Cove Road (off Masters Drive)
Join AAUW St Augustine to learn about the wonderful events this year as we continue to advance gender equity.  Make new friends and catch up with old friends.  Maxine Burns, Director for Membership, will provide info for prospective members and interested friends.  Please contact her to reserve your lunch and receive info on the gate code. Donation requested. mmmburns@yahoo.com
October 14, 11:00  Lincolnville Museum and Cultural Center
Group Tour and Discussion on Civil Rights         102 Martin Luther King Street
Contact Maxine Burns for reservation and cost of tour.  Public welcome to join us for the tour.  Maxine Burns, Director for Membership, will provide info for prospective members, interested friends and members.  Please contact her to reserve the tour and payment info. Lunch on your own.   mmmburns@yahoo.com

Author to be Announced    Save the Date
November 11, 11:30  Serenata Beach Club
3175 S Ponte Vedra Blvd, Ponte Vedra Beach
Public Policy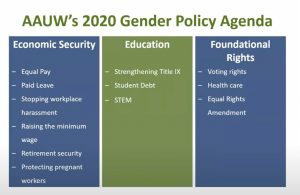 Human Trafficking:  St Augustine Branch Public Policy Committee Focus
Stop Human Trafficking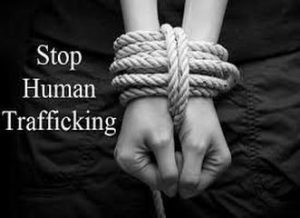 AAUW supports legislation to prevent human trafficking. We believe in accordance with National, "global interdependence requires national and international policies against human trafficking that promote peace, justice, human rights, sustainable development, and mutual security for all people."   Get quick facts about human trafficking.
Women's Economic Security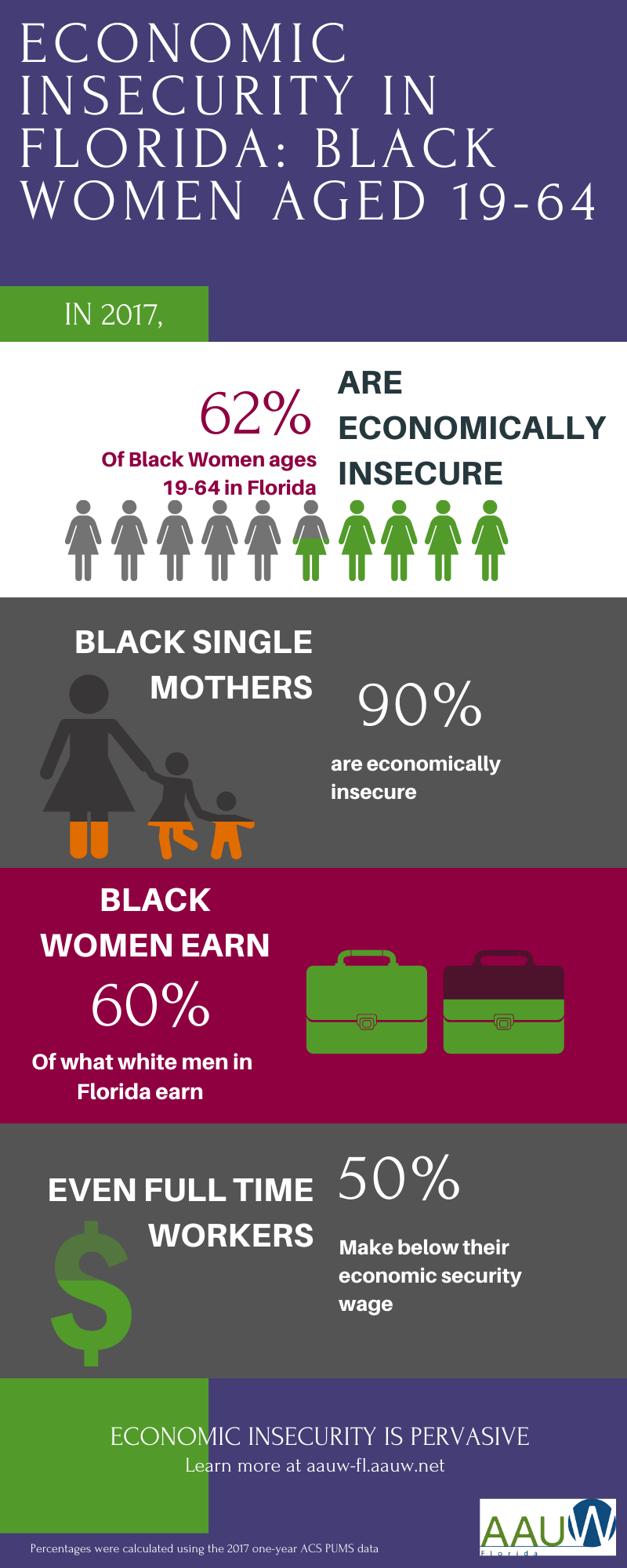 ---

Op-Ed in Florida Courier, April 24, 2020
NEWLY RELEASED!    WOMEN'S ECONOMIC INSECURITY REPORT FOR FLORIDA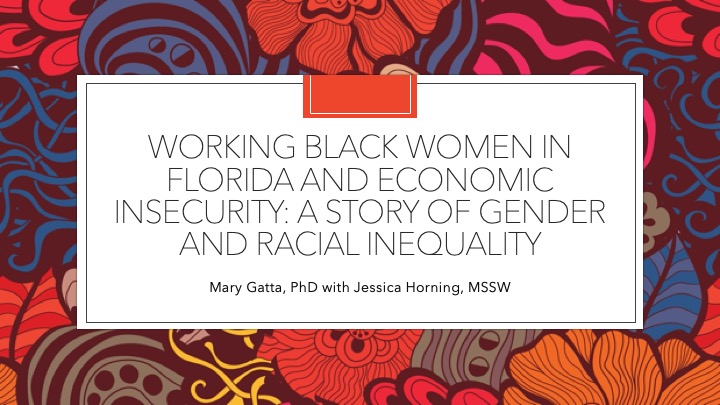 Full Report:
American Association of University Women (AAUW) Flagler, Jacksonville, St. Augustine, Sarasota and
and Tampa Branches supported this research through AAUW-Florida state grants, and the Weston
branch supporting through member contributions

Dr. Mary Gatta, PhD with Jessica Horning, MSSW     May 12, 2019
American Association of University Women (AAUW) Daytona Beach, Jacksonville and St. Augustine Branches supported this report and infographics through financial support from members and a grant from AAUW Florida

Work Smart Salary Negotiation Online Training      Free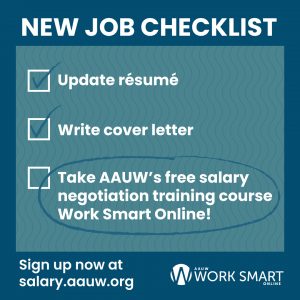 Know Your Rights: Workplace Sexual Harassment
---

Sexual harassment is a form of sex discrimination that violates Title VII of the Civil Rights Act of 1964. Title VII is a federal law that prohibits discrimination in employment on the basis of sex, race, color, national origin, and religion, and it applies to employers with 15 or more employees, including federal, state, and local governments. Even with Title VII's protections, many people across the country still face sexual harassment in their workplaces.
---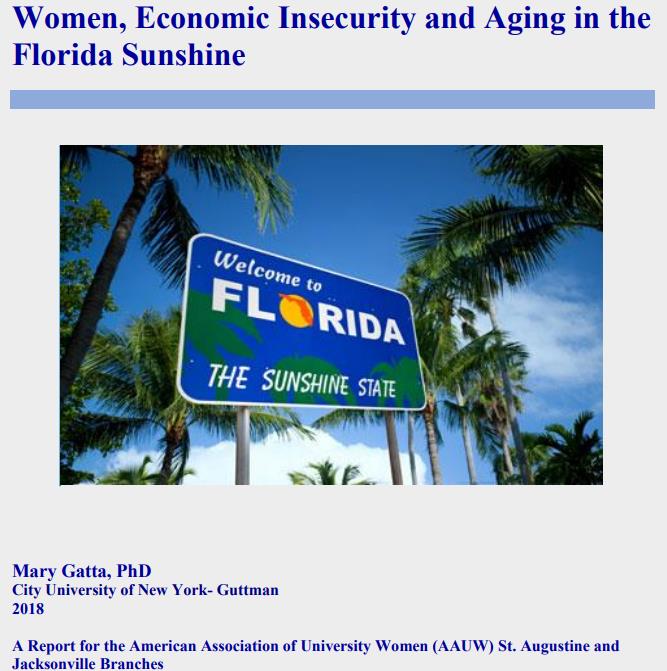 ---

It's Easier Than Ever to Make Your Voice Heard !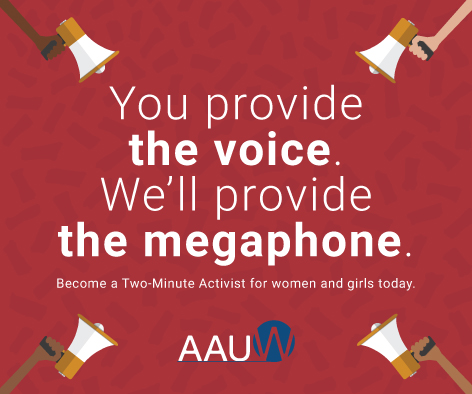 Are you ready to take your advocacy to the next level? Opt in to AAUW's Two-Minute Activist Mobile. This exciting new tool will allow AAUW to send more timely and targeted communication straight to your cell phone via text message. That means we can provide you with more strategic opportunities to take action when your advocacy can make the difference. Sign up online or text the word "AAUW" to phone number 21333 now to join.