The St. Augustine Branch of the AAUW –
Was instrumental in the building of the first library in St. Johns County.
Spearheaded the formation of Learn to Read in St. Johns County.
Established scholarships for students who have completed their first year of college.
Initiated a Read-A-Loud Program in local schools.
---
Lunch Bunch –
St. Mary's Seafood & More, Wed, August 7, 1:00
The August Lunch Bunch is scheduled for Wednesday, August 7 at 1:00 PM.  We will be meeting at St. Mary's Seafood and More Restaurant located at 705 Horton's Trace, St. Augustine Beach, FL  32092.   This event is open to members and others who want to join in stimulating conversation and learn more about AAUW St. Augustine Branch.  Please contact Debbie Brinsfield at cdbrins@yahoo.com or 940-7379 so we can make a group reservation.  The menu can be found at St. Mary's Seafood & More Restaurant & Bar.
  
Lunafest  in St Augustine
Prior to 90 minutes of films directed by women, enjoy a reception with food, drinks and silent auction and raffle featuring fabulous items from local businesses. Everyone will enjoy popcorn to munch on and a goodie bag full of goodies from local businesses plus a LUNA bar.  Support AAUW Florida Supporting Foundation, Inc (501(c) (3) as it helps support STEM camps for girls named Tech Trek and Friends of the Corazon, Inc.
September 21, 2019  6:30, Corazon Cinema and Cafe 
AAUW's Jean Luoma Scholarship awarded to Sylvia Von Boskirk
AAUW's Diane Boyce Scholarship recipient is Zachary Riley
Carol Mellon, incoming Scholarship Chair, Kathy Simic,Scholarship Chair, Sylvia Von Boskirk, recipient, Melinda Von Boskirk, Geraldine Linton, Public Policy Chair
     Lobby Days, Florida Capitol in Tallahassee, March 11-12

 Receiving Human Trafficking Prevention Awareness Proclamation from St. Johns County Commission    Tuesday, February 19, 2019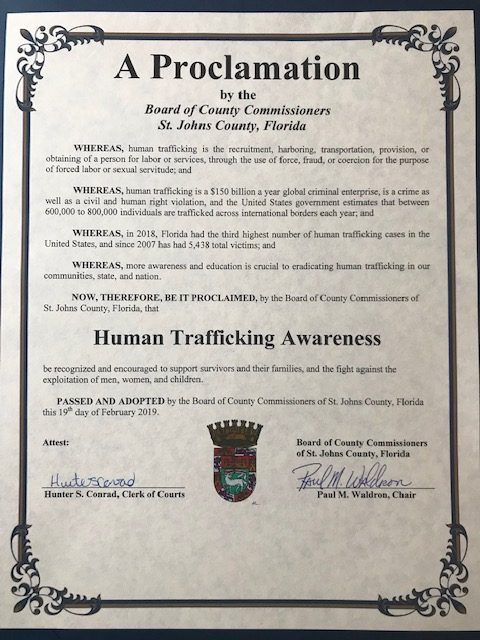 ---

 Things We Learned about Leadership at NCCWSL
At the 2018 National Conference for College Women Student Leaders, nearly 800 students from around the world gathered to build community and sharpen their leadership skills. Here are some of our favorite moments that had us clapping, snapping, and thinking hard about the future.      Read More
---

Know Your Rights: Workplace Sexual Harassment
---

Sexual harassment is a form of sex discrimination that violates Title VII of the Civil Rights Act of 1964. Title VII is a federal law that prohibits discrimination in employment on the basis of sex, race, color, national origin, and religion, and it applies to employers with 15 or more employees, including federal, state, and local governments. Even with Title VII's protections, many people across the country still face sexual harassment in their workplaces.
---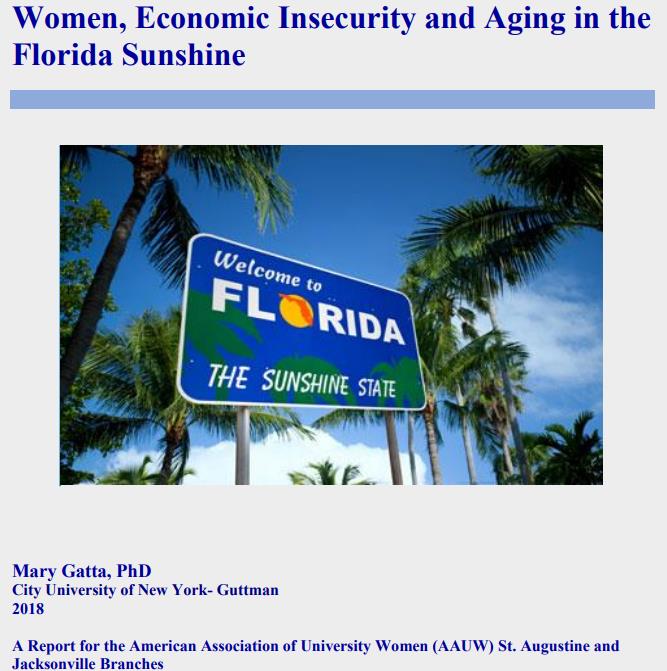 ---

It's Easier Than Ever to Make Your Voice Heard !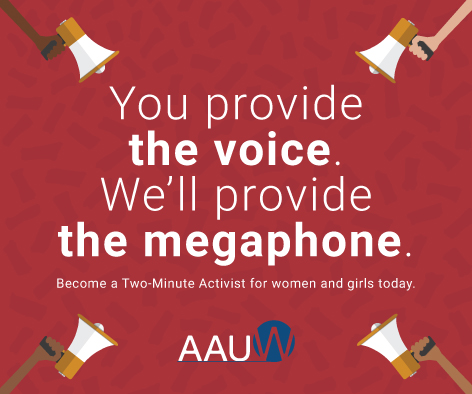 Are you ready to take your advocacy to the next level? Opt in to AAUW's Two-Minute Activist Mobile. This exciting new tool will allow AAUW to send more timely and targeted communication straight to your cell phone via text message. That means we can provide you with more strategic opportunities to take action when your advocacy can make the difference. Sign up online or text the word "AAUW" to phone number 21333 now to join.